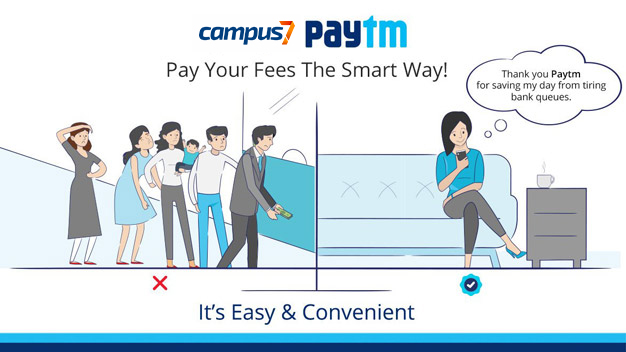 Paytm Debit Card and Integrated Payment Solutions for schools colleges
We are glad to introduce our new services to our valued clients.
IXIAN Informatics Pvt Ltd has partnered with Paytm to provide first of its kind innovative solutions along with our Campus7 –  Campus Management Solution. The following solutions helps the Institute offer additional services to students. These products along with Paytm brand name will give you tremendous help to strengthen your Institution, client relationships and open new gates of opportunities to stay unique in this competitive market.
1) Payment Gateway Solution for Fee Collection :
Two ways where we can integrate the Campus7 fee module with Paytm
a. Payment Gateway
b. Listing of Institute on Paytm App 
2) Co-branded Debit Card cum ID Card :
Paytm has launched the first Co-branded Student Debit Card which works as
a. Students Id Card
b. Attendance Card
c. Debit Card/Pre-Paid Card
Benefits to the Institute:
Co-branded Smart Debit card / Pre Paid card- Institute shall have 1 card which shall act as a Student ID card + Access / Attendance Card + Debit card / Pre Paid Card.
Institute shall save cost on printing the ID card separately.
Branding opportunity for the Institute, the DC shall be co-branded with the Institute's logo
We shall provide attractive Paytm vouchers to the students who avail this facility
3) Student Education Insurance :
Paytm has launched the Student Fees Insurance product for the benefit of student all over India at very nominal rate.
In the event of death/disability/specific conditions of the earning parent, lump sum payment is made to the student to provide financial cover for future Fees payments for uninterrupted education.
Eligibility: Student; Buyer: Parent (Policy will be issued on the name of parent with student as nominee)
Product Definition:
Hospital Cash – Fixed payout for each day of hospitalization for cases of illness as well as accident.
Critical Illness – Payout is on diagnosis of any of 25+ illness covered including cardiac, cancer, coma, major head trauma, third degree burns, etc.
Cancer Care – Payout is on diagnosis of any cancer type as per Sum Insured.
Benefit for Institute:
There would be zero income loss due to sudden dropouts in cases of family crisis.
Positive brand image as it is one of kind student care measure to ensure financial stability.
Benefit for Students:
Financial security in the period of crisis
Please keep in touch with us to know more about the above services.
IXIAN Informatics Pvt Ltd,
AS7, Level 7, Heavenly Plaza,
Kakkanad, Kochi Kerala – 682021,
Mob: +91 9995 467 627, +91 9567 309 777
Email: info@campus7.in | praharsh@campus7.in
---