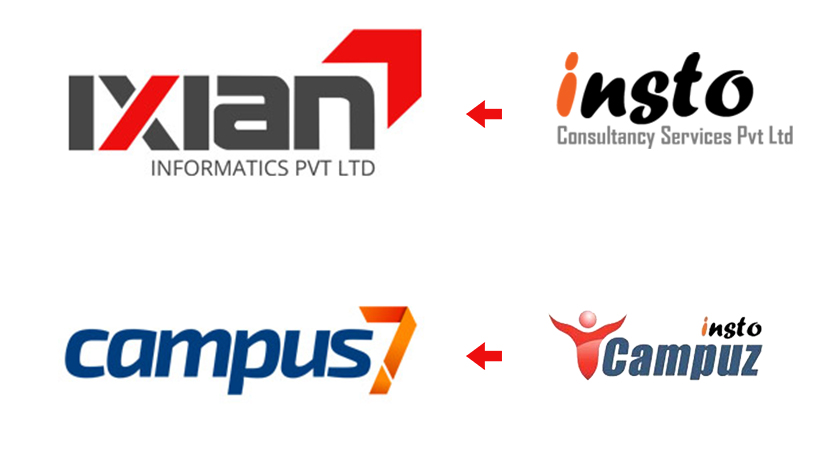 Company Name Change Notice
We are excited to share important news regarding the evolution of our company and how this change will benefit you. We are delighted to announce that our company name will be changing as of April 1st 2020, to IXIAN Informatics Pvt Ltd (Formerly Insto Consultancy Services Pvt Ltd). This name change will allow us to present ourselves as truly the most innovative and trusted complete IT solutions company worldwide.
Further, as part of this exciting worldwide company re branding effort, IXIAN and its Brands will be adopting new logos that better express our family of IT products and services. The brands include Campus7 (Formerly instoCampuz) with new logo identities, This re branding will not affect or delay in any of our ongoing services.
However, this letter is intended to offer notice that all invoicing, and related documents will be rebranded after March 31st, 2020.
The name change has been approved by the Registrar of Companies and the new name is updated in their records .The name clause of memorandum & articles of association has been updated to reflect this amendment.
The Registrar of Companies has issued a new certificate of incorporation with name of the company updated as "IXIAN Informatics Pvt Ltd" and this change is effective from 3rd March 2020
Please note that our rebranding and name change will not impact our Bank Account Number, PAN, GST Identification Number, Company Identification Number and other Legal Contracts.
For your future reference, we would like to share with you the new logos that will replace our old logos on all corporate documents, envelopes, invoices, shipping documents etc.
We thank you for your continued support and patronage, and we look forward to sharing our new look from April 1st 2020
Legal Name
IXIAN Informatics Private Limited
Company Identification Number
U74140KL2013PTC034139
GST Identification Number
32AADCI2993N1Z7
Registered Address
FLAT NO. XI/275-J144, AS7, 7TH FLOOR HEAVENLY PLAZA, VAZHAKKALA, THRIKKAKARA POST, ERNAKULAM  KERALA – 682021
Contact Numbers
+91 484 485 0690, +91 9567 309 777
Email Address
info@ixian.in | info@campus7.in
support@ixian.in | support@campus7.in
aneesh@ixian.in | aneesh@campus7.in
marar@ixian.in | marar@campus7.in
praharsh@ixian.in | praharsh@campus7.in
Website
www.ixian.in | www.campus7.in

Brand Identity
Note: You can access our solution using the existing urls and send emails to the existing ids for the time being. We will redirect them to the new address gradually. There won't be any kind of service interruption.
Kindly,
For IXIAN Informatics Pvt Ltd

Praharsh.R.J
Director
---